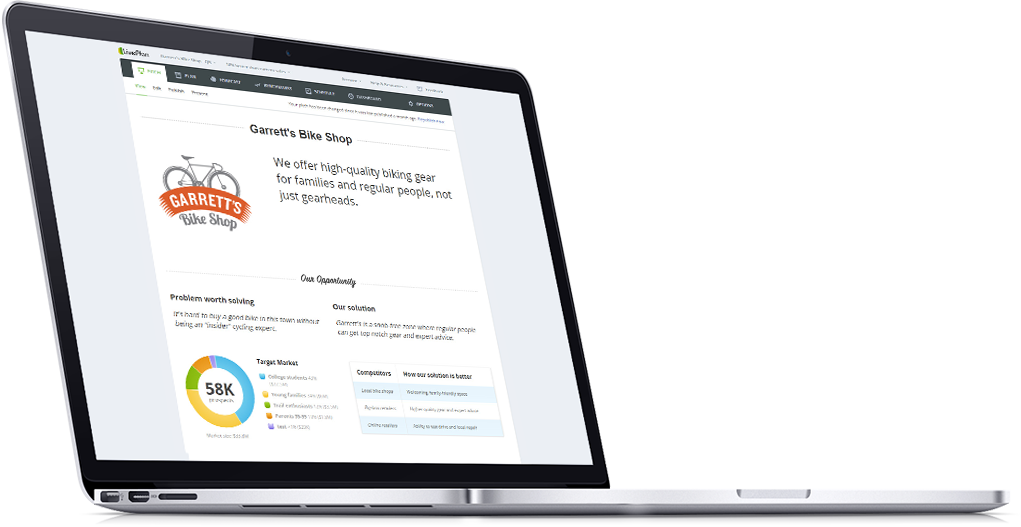 Enter your information to get started!
The Franchise King® Understands The Importance Of A Strong Franchise Business Plan.
That's Why He Recommends Business Plan Software From Palo Alto Software For All His Franchise Clients.
Rated 4.8 out of 5
on Shopper Approved
Trusted by 850,000+
entrepreneurs like you
Rated 4.6 out of 5
LivePlan simplifies the complex process of writing a professional business plan
You get a step-by-step process to follow
LivePlan asks you questions about your business, you plug in the answers. It's as easy as that. You'll get straight-forward instructions with examples on:

Ways to write a pitch that grabs investors' attention
What to include in your marketing plan
Every other essential piece of your business plan
Get Started Risk Free
"LivePlan saved me a lot of time because the software does so much of the work for you. All you have to do is answer questions and plug in numbers."
Brian Sung, Eugene, OR
Owner of Tailored Coffee
All the financials are calculated for you
LivePlan tells you exactly what kind of financial information you need to enter and then it does all the calculations automatically using built-in formulas. So you end up with razor-accurate financial statements that include all the tables that a lender or investor expects to see.

Get Started Risk Free
"Most people are intimidated by the financials, but LivePlan made planning simple, saved me so much time and just knowing that the calculations are correct makes this tool worth every penny!"
Brandie Slaton, Merced, CA
Noelle Notals LLC
If you ever get stuck, we'll help you out
Most LivePlan users are able to breeze through their first business plan. But if you ever have a question, there are 3 ways to get advice:
Call a LivePlan expert at 1-888-498-6136
Start a chat with our advocacy team. Click here to try it.
Or refer to more than 500 sample plans and tutorial videos built into LivePlan
Get Started Risk Free
"LivePlan was user friendly, supportive and provided meaningful guidance all while remaining very flexible."
Freja Nelson, Oregon
Freja Foods
Get a Polished Business Plan That Will Impress Lenders
Once your plan is done, you can:
Customize the look of your plan using 10 beautiful document themes
Download your plan as a PDF or Word doc so you share it easily
Print out your plan to get a clean, professional document
Get Started Risk Free
Join over 850,000 entrepreneurs who found success with LivePlan
Start My Business Plan
"LivePlan is incredibly simple and easy to use. The financial sales forecasting tool is very intuitive and makes writing a business plan more fun."
Helga Douglas
Owner, Svala
LivePlan Also Gives You Tools to Help Your New Business Succeed
Access Essential Business
& Legal Form Templates
Search our library of hundreds of legal forms that cover credit applications, contractor agreements, employee contracts and more.
Get Insights That Will
Help Your Company Grow
Are you charging enough? Will you meet your revenue goals? LivePlan's forecasting tool can answer these type of questions at a glance.
See How You Stack Up
Against Competitors
Plug in your industry and where you're located, and LivePlan will tell you how you're doing compared to businesses just like yours.
You Might Be Surprised By What New Business Owners Have Achieved with LivePlan
E'a Williams
BE Fit! Tri Wellness, Chicago, IL
"Once the investor saw the plan, he believed in it. The interface was fresh and lively. The program gave wonderful examples of what should be in the different sections. I was able to take bits and pieces of those examples, but when I finished each section it sounded like I had written it. "I could just plug in information without having to do any of the math. That saved a lot of work. It made it very easy to get the business plan done. Once the investor saw my business plan on LivePlan, he immediately got back to me and said, 'I'm in.'"
Mandie O'Neill
Lucky Dog Daycare, Eugene OR
"LivePlan made an overwhelming task easy. LivePlan is incredibly easy to use. LivePlan's web-based nature allows me to log in anywhere (for me it was with my Mac Book Pro or iPad). At times writing a business plan can be a overwhelming task, especially when it comes to formatting and layout. LivePlan has made it easy to focus on putting your business ideas and goals on paper instead of fussing with all the other pesky stuff. I really liked how each section is defined and gives examples of what a quality business plan should look like."
Rachid Tajiouti
Olive Oil USA, LLC, New York, NY
"I've raised $3M so far with LivePlan! I needed to write a business plan for my investors. I was going nuts trying to create charts and properly format them. Then a friend recommended LivePlan! The financials were so easy to use and I liked knowing the calculations were all correct. It helped me create a precise plan to confidently share with investors, and I've raised $3M so far!"
Our customers give
LivePlan
Excellent business planning tool enabling very fast turnaround of initial plan (one day) and then subsequent collaboration among stakeholders.
You can't start a business before you use LivePlan. I recommend the software at every conference I go to.
Following the step-by-step plan provided all of the information, and more, that the bank was looking for... easy to use and follow...
I recommend getting LivePlan when you want to be successful with any business... I feel confident discussing my business with potential partners...
My clients are always impressed with the output and access... We are now using our plan as a roadmap for a new company—could not be more pleased.
I completed my plan [quickly] and presented it to the bank, they were impressed that a fellow with no business training did such a fantastic job.
LivePlan is a great tool! With the costumer service, they were very fast and answered my questions!...
I wanted to move my practice more toward advisory services and wasn't sure where to begin. The LivePlan Method for Strategic Advisors is just what I needed.