Get both and grow your business for one low price!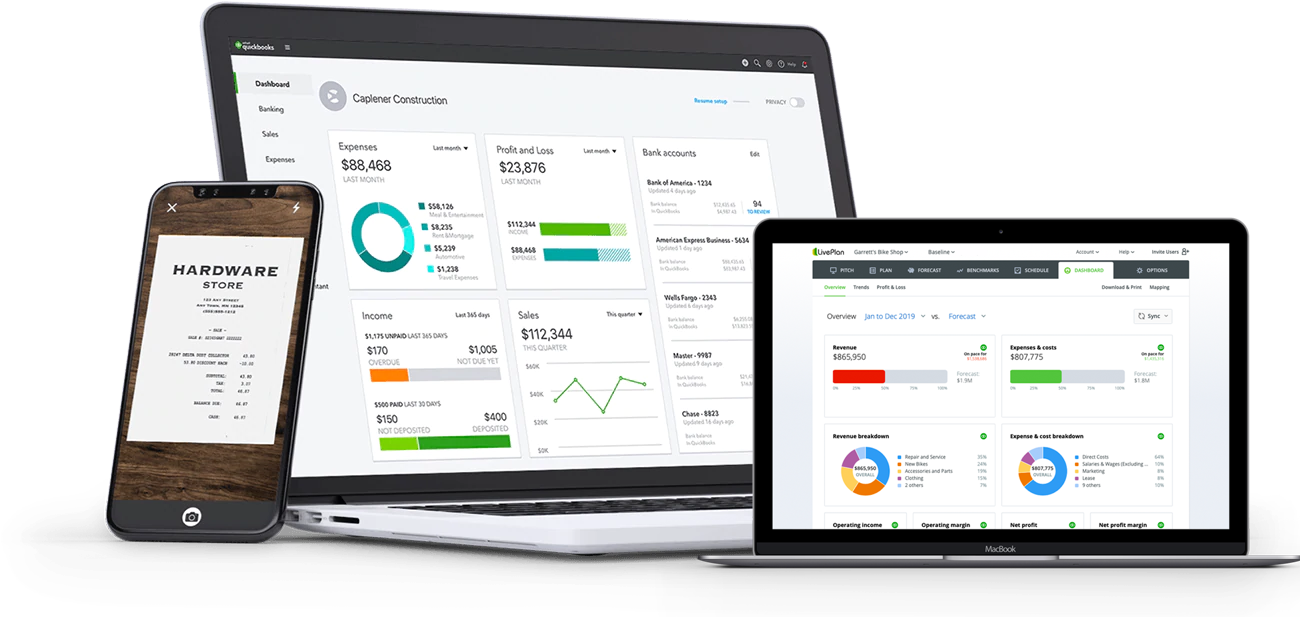 Get all of your small business accounting needs covered with the QuickBooks Online Essentials Plan from Intuit.
Build strategic budgets and forecasts with LivePlan, the world's leading business planning software.
Sync between them to track your financial performance against your plan and make smart, data-driven decisions.
$720 $350
Save over 50% on an entire year
of both Quickbooks & LivePlan.

Enter your information to get started (step 1 of 2):
**Bundle offering only valid for US version of QBO**
Intuit and QuickBooks are registered trademarks of Intuit Inc. Used with permission under the QuickBooks Solution Provider Program.
Rated 4.8 out of 5
on Shopper Approved
Over 98% of customers say
QuickBooks helps them run their business more easily
Rated 4.6 out of 5
LivePlan + QuickBooks: Build smart forecasts, track your growth, and make informed decisions.
Sync between LivePlan and QuickBooks to:
Quickly create a starting budget and forecast based on your QuickBooks data
Easily create stunning reports to analyze your financial performance and manage your business better
Track your progress compared to your budget and forecast
Compare your forecasts and performance to benchmark data from businesses like yours
Deliver simple-to-understand financial reports to your team, board of directors, and investors
Get Started Risk Free
"LivePlan saved me a lot of time because the software does so much of the work for you. All you have to do is answer questions and plug in numbers."
Brian Sung, Eugene, OR
Owner of Tailored Coffee
Feel confident about your cash flow
Build detailed budgets and forecasts in LivePlan, without all of the spreadsheets

Create forecasts faster by syncing with your QBO data
Use LivePlan's multiple forecast scenarios to test ideas without doing the math
Compare your forecasts and actual performance to benchmark data from businesses like yours
Get Started Risk Free
"Most people are intimidated by the financials, but LivePlan made planning simple, saved me so much time and just knowing that the calculations are correct makes this tool worth every penny!"
Brandie Slaton, Merced, CA
Noelle Notals LLC
Keep everyone up to speed on the numbers
Create and share beautiful reports that are easy to understand
LivePlan helps everyone on your team understand the story behind the numbers, with instant visuals that need no explanation
Create presentation-ready reports with just a few clicks
Invite team members to collaborate in LivePlan, and control who sees what
Get Started Risk Free
If you ever get stuck, we'll help you out!
Most LivePlan users are able to breeze through their first business plan. But if you ever have a question, there are 3 ways to get advice:
Call a LivePlan expert at 1-888-498-6136
Start a chat with our advocacy team. Click here to try it.
Or refer to more than 500 sample plans and tutorial videos built into LivePlan
Get Started Risk Free
"LivePlan was user friendly, supportive and provided meaningful guidance all while remaining very flexible."
Freja Nelson, Oregon
Freja Foods
Join over 1 million entrepreneurs who found success with LivePlan
Get started with LivePlan & QBO
"LivePlan is incredibly simple and easy to use. The financial sales forecasting tool is very intuitive and makes writing a business plan more fun."
Helga Douglas
Owner, Svala
LivePlan Also Gives You Tools to Help Your New Business Succeed
Access Essential Business
& Legal Form Templates
Search our library of hundreds of legal forms that cover credit applications, contractor agreements, employee contracts and more.
Get Insights That Will
Help Your Company Grow
Are you charging enough? Will you meet your revenue goals? LivePlan's forecasting tool can answer these type of questions at a glance.
See How You Stack Up
Against Competitors
Plug in your industry and where you're located, and LivePlan will tell you how you're doing compared to businesses just like yours.
You Might Be Surprised By What New Business Owners Have Achieved with LivePlan
E'a Williams
BE Fit! Tri Wellness, Chicago, IL
"Once the investor saw the plan, he believed in it. The interface was fresh and lively. The program gave wonderful examples of what should be in the different sections. I was able to take bits and pieces of those examples, but when I finished each section it sounded like I had written it. "I could just plug in information without having to do any of the math. That saved a lot of work. It made it very easy to get the business plan done. Once the investor saw my business plan on LivePlan, he immediately got back to me and said, 'I'm in.'"
Mandie O'Neill
Lucky Dog Daycare, Eugene OR
"LivePlan made an overwhelming task easy. LivePlan is incredibly easy to use. LivePlan's web-based nature allows me to log in anywhere (for me it was with my Mac Book Pro or iPad). At times writing a business plan can be a overwhelming task, especially when it comes to formatting and layout. LivePlan has made it easy to focus on putting your business ideas and goals on paper instead of fussing with all the other pesky stuff. I really liked how each section is defined and gives examples of what a quality business plan should look like."
Rachid Tajiouti
Olive Oil USA, LLC, New York, NY
"I've raised $3M so far with LivePlan! I needed to write a business plan for my investors. I was going nuts trying to create charts and properly format them. Then a friend recommended LivePlan! The financials were so easy to use and I liked knowing the calculations were all correct. It helped me create a precise plan to confidently share with investors, and I've raised $3M so far!"