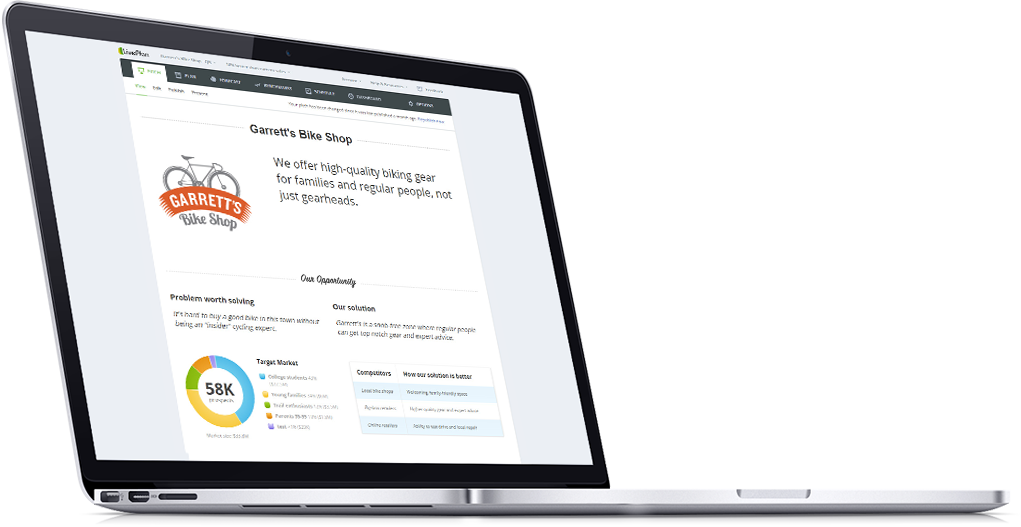 Craft Your 1-Page Business Plan.
Get started with 6 months of LivePlan for $65 (45% off retail).
The easiest way to create a 1-page business plan.
"It's so easy to take a quick look at what's going on at the restaurant. Since we started running on financial metrics we've done a lot better."
Rick Montoya
Ox & Fin
Plan
The foundation of your business
Create the perfect pitch
Create a winning, investor-worthy pitch in just a few minutes with LivePlan's Pitch Builder. It's how every great business plan starts.
500+ sample plans to guide you
If you ever get stuck or need a little inspiration, browse the LivePlan library to see hundreds of sample plans from dozens of industries.
Forget fancy formulas
Your business needs to make money, but you don't need to create formulas. Enter your financials and we'll do the calculations for you, instantly.
Collaborate with your team
Work securely with partners to come up with ideas and easily share them with stakeholders— regardless of geography or operating system.
"LivePlan saved me a lot of time because the software does so much of the work for you. All you have to do is answer questions and plug in numbers."
Brian Sung, Eugene, OR
Owner of Tailored Coffee
Operate
Stay funded and healthy
Get your business funded
Banks, investors, and loan officers need to see a polished, professional plan. LivePlan provides exactly what they need.
Know your revenues
Your financial picture is always evolving. Quickly forecast your revenues and see your cashflow in the coming months and years without a spreadsheet.
You and the competition
Compare your profit to industry averages with LivePlan's Benchmarks so you know how you stack up to your colleagues and competitors.
"Most people are intimidated by the financials, but LivePlan made planning simple, saved me so much time and just knowing that the calculations are correct makes this tool worth every penny!"
Brandie Slaton, Merced, CA
Noelle Notals LLC
If you ever get stuck, we'll help you out
Most LivePlan users are able to breeze through their first business plan. But if you ever have a question, there are 3 ways to get advice:
Call a LivePlan expert at 1-888-498-6136
Start a chat with our support team. Click here to try it.
Or refer to more than 500 sample plans and tutorial videos built into LivePlan
"LivePlan was user friendly, supportive and provided meaningful guidance all while remaining very flexible."
Freja Nelson, Oregon
Freja Foods
Grow
Insights to grow your business
Every metric at your fingertips
See what's driving your revenue, costs, and how much profit you make today and over time. And see it all laid out in easy-to-read charts and graphs.
Milestones to keep you focused
Plan your most important milestones to keep your goals on track. As you complete milestones, it's easy to see how your business improves on the Scoreboard.
The only dashboard you need
Make sense of your business with LivePlan's Scoreboard. It integrates with QuickBooks Online and Xero so no data entry is required.
Join over 500,000 entrepreneurs who found success with LivePlan
Get Started Today
60-day money back guarantee.
"LivePlan is incredibly simple and easy to use. The financial sales forecasting tool is very intuitive and makes writing a business plan more fun."
Helga Douglas
Owner, Svala
You Might Be Surprised By What New Business Owners Have Achieved with LivePlan
E'a Williams
BE Fit! Tri Wellness, Chicago, IL
"Once the investor saw the plan, he believed in it. The interface was fresh and lively. The program gave wonderful examples of what should be in the different sections. I was able to take bits and pieces of those examples, but when I finished each section it sounded like I had written it. "I could just plug in information without having to do any of the math. That saved a lot of work. It made it very easy to get the business plan done. Once the investor saw my business plan on LivePlan, he immediately got back to me and said, 'I'm in.'"
Mandie O'Neill
Lucky Dog Daycare, Eugene OR
"LivePlan made an overwhelming task easy. LivePlan is incredibly easy to use. LivePlan's web-based nature allows me to log in anywhere (for me it was with my Mac Book Pro or iPad). At times writing a business plan can be a overwhelming task, especially when it comes to formatting and layout. LivePlan has made it easy to focus on putting your business ideas and goals on paper instead of fussing with all the other pesky stuff. I really liked how each section is defined and gives examples of what a quality business plan should look like."
Rachid Tajiouti
Olive Oil USA, LLC, New York, NY
"I've raised $3M so far with LivePlan! I needed to write a business plan for my investors. I was going nuts trying to create charts and properly format them. Then a friend recommended LivePlan! The financials were so easy to use and I liked knowing the calculations were all correct. It helped me create a precise plan to confidently share with investors, and I've raised $3M so far!"